Teachers and students can freely use Creative Commons (CC) licensed material and can apply CC licences by using the licence tool to material they create. This allows sharing of resources with other educators and schools. The main focus is on what you CAN do with the material rather than what you cannot do.
Open Educational Resources (OER)
Open Educational Resources (OER) are open-licensed or public domain materials for learning, teaching and research. OER can be created in any format and medium, and permit the '5 R' activities for users: Reuse, Retain, Revise, Remix, and Redistribute.
CC licences and tools can be employed with OER, as long as you keep the '5 Rs' in mind. The illustration below highlights which licences are compatible with OER: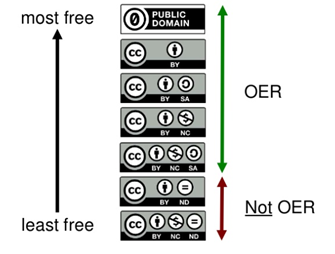 The following sites are useful starting points to locate OER materials: